If you want a therapy that boosts your own healing power so that your system becomes stronger as it deals with any illness homeopathy is for you.


"I could feel Sandy's experience while she was treating me, the treatment worked and is still working, and I'm far happier to be taking something natural instead of anti histamines"
- B.M.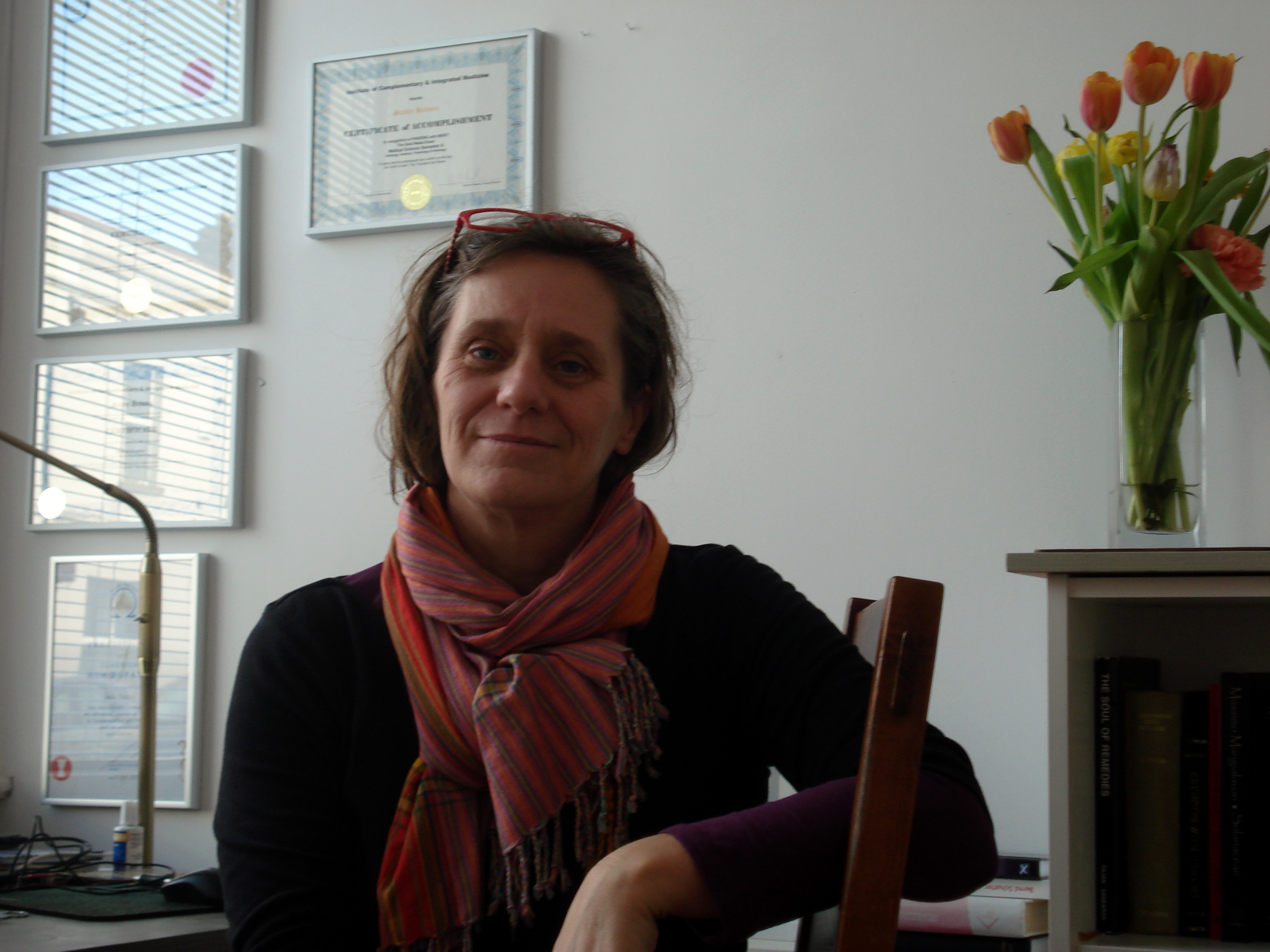 Sandy Hudson MCH PCH ISHom qualified from the College of Homoeopathy in London in 1991, is a founder member of the Irish Society of Homeopaths and has been working as a homoeopath for twenty five years. Sandy has four children and three grandchildren. She moved home to Dun Laoghaire early in 2012 having gained extensive experience of family homoeopathy in her rural practice in Co Cork. In 2013 and 2014 she spent six months in Africa where she worked for Homoeopathy for Health in Africa in conjunction with local hospitals using homoeopathy successfully to help people suffering from HIV/AIDS and other serious disease. Sandy has travelled to Malawi 4 times since 2013 to teach pastors and health care workers how to use homeopathic remedies for the people in their communities.
"I have found Sandy Hudson to be a very good, experienced, sensitive, and intuitive Homeopath. I'm grateful for the day she came into my life."
- E.B.
Homeopathy during Pregnancy
When you have a homeopath caring for you over the duration of your pregnancy you know you have someone deeply invested in your long term health who will give you individualised care and always have your back.
At the first visit in early pregnancy we take a full history and review previous experiences of pregnancy and child birth with ample time for questions. At this visit we deal with nausea if that is a problem. There may be follow up phone calls over the following couple of weeks just to make sure the nausea or any other problem is cleared.

There will be two or three visits towards the end of pregnancy when things are changing more quickly and you may need help with heartburn, backache, tiredness, sleeplessness, thrush, piles etc. But we can schedule a visit at any stage of pregnancy if you have worries or any thing bothering you.

Over the months as we tackle any problems of pregnancy a trust builds up with the homeopath and we can discuss any worries you might have about the birth of the baby. Pregnancy is actually an ideal time to work through any traumas you may have had in the past and the homeopathic remedies will help to free you to let them go. It is well to deal with these old traumas as they can be replayed through the intensity of childbirth slowing things down just when you need them to run smoothly. If we know ahead of time the type of fears or anxieties which you might be vulnerable to, you can go into childbirth with the homeopathic remedy to hand which will help you the most and allow labour to progress trouble free.

Through her knowledge of you gained over the time of the pregnancy the homeopath will make you an individual homeopathic remedy kit that you can use during labour for natural pain relief, nausea, weakness, stalled labour, bleeding, retained placenta etc.

In the last weeks of pregnancy the homeopath will be at hand with a homeopathic remedy to help turn the baby into the best position for birth if that is necessary and to help you to settle, safely and securely, into a peaceful mindset for the rigours of childbirth.

If you want them there are two home visits included in the pregnancy package after the birth of the baby to help with any difficulties that come up in that vulnerable time. The weepiness caused by big hormonal changes as your body adjusts to the end of pregnancy and the begining of breast feeding can be greatly eased by homeopathy – ensuring that it is only a day of weepiness and nothing more serious. We can help you with perineal care, leaky bladder, constipation, piles, mastitis, breast abscess or too much or too little milk.

For your baby during those first few weeks homeopathy can help with the establishing of breast feeding if there are any problems; difficulty settling to the breast, problems with latch, snuffles, tongue tie, reflux, silent reflux, colic, thrush, nappy rash or crying for no reason.

Homeopathy is the ideal safe, gentle medicine to deal with small worries imediately and effectively preventing them from becoming big problems.
Homeopathy for You and Your Baby
Can you imagine having someone on the end of the phone for the first three months of your baby's life who you can call on for any little worry that comes up. Somebody with huge experience of small babies who actually has practical and effective help to hand?
Homeopathy is a wonderfully gentle medicine for babies who have trouble with latch or settling to breast feeding or who suffer from tongue tie, nappy rash, colic, reflux or thrush or have periods of crying for unknown reason. The homeopath will find the individual remedies that will help your little one and ease his pain or discomfort. When you have a trusted homeopathic remedy to hand you do not have to rely on medicines such as paracetamol which can be difficult for your baby's system to process.

Homeopathy is an amazing, holistic therapy for the new Mum. It is very useful to have a debriefing session – a chance to talk about your experience of labour and childbirth, handle any remainimng trauma and congratulate yourself on your success.

Using homeopathic remedies speeds the healing of stitches and deals with any problem with leaky bladder, constipation, piles or thrush.

Homeopathy is also fantastic for breast feeding support. Right from the get go when the milk comes in and fluctuating hormones can bring overwhelming emotions, a homeopathic remedy will bring a sense of well being and prevent the baby blues from being anything other than a day of weepiness. The right remedy for you will also regulate your milk flow if you are having problems with engorgement and discomfort or feel you do not have enough milk.

The first few months of a baby's life can be an intense time for a family and small worries can become magnified. With the new baby package you know that you have someone on the end of the phone who will listen to you and deal effectively with your problem.

I am happy to hear from you and will deal safely and gently with small problems knowing that solving small problems prevents big problems. It has been a pleasure in my work to see many new mothers grow in confidence and their small babies thrive.
Easy Menopause with Homeopathy
The change – a time of physical and emotional upheaval. For some a difficult time of hormonal fluctuation before things settle down and you emerge as the new you. For others a blessing, a release from 40 years of hormonal hell – no more periods mean no more PMT! No more periods also means no monthly blood loss, no loss of prescious iron which can make the time after menopause a time of new and increased energy.
Our hormones are the messangers of our body and influence every single body system and because fluctuating hormones can effect every body system hormonal problems are ideally treated with a whole body medicine such as homeopathy.

We know from the huge range of problems that can come up during menopause just how influential hormones can be;

Hot flushes, night sweats, irregular, prolonged or heavy periods, loss of libido, vaginal dryness, anxiety (even with physical symptoms / palpitations / shortness of breath), depression, mood swings, irritibility, problems concentrating, dizziness, tiredness / low energy levels, hair loss or thinning, problems with sleep, headaches, weight gain / bloating / digestive problems, incontinence, joint pain, itchy skin . . . .

. . . . even allergies are connected to your hormone system, but all of these problems settle back into place as your overall health is raised by the homeopathic remedies individually chosen for you, allowing you to get on with your new life without any menopausal miseries.

Over the course of your menopause regular visits to your homeopath will help your menopause to be the energetic, creative change that it should be.
Achieving Your Healthy Weight with Homeopathy
When you use homeopathy to help you lose weight we start with a look at your whole health. We take a complete history and search for any hidden reason why you might be having difficulty losing weight. We listen to the whole story and put the pieces of the puzzle together until we understand all the blocks. Then we systematically deal with any areas where you might need help.
While this work is going on our aim is to find a satisfying, nutritious diet that suits you. There is often a strong desire for the wrong food but food cravings are very revealing about the state of your health and also very helpful in pointing to the homeopathic remedy that is going to help your overall success in achieving your goals. As your health builds food cravings fade. We discuss your diet with you in detail – everyone has different food likes and dislikes and some foods suit one person but not another. Your diet should be made up of the foods you love and the foods that love you.

We also want to understand anything that is preventing you from exercising. Whether it is joint pain or lack of motivation or feeling physically drained, homeopathy is the ideal medicine to help you to remove those physical obstacles and live the life you want to live. Homeopathy can also help if your metabolism has been disrupted by previous diets.

But there is a lot more to weight loss than diet and exercise. There are many emotional blocks that can prevent us from losing weight and homeopathy is fantastic at finding the triggers for self sabotage and tackling deep emotional issues such as low self esteem or lonliness.

On your weekly weigh-in visits we will discuss any problem that has come up during the week for you, moniter any underlying health issues and be there with practical help and support should you ever hit an emotional block or a plataeu in your weight loss plan.

Weight loss with homeopathy is part of a general health overhaul and will be slow and safe and sustainable – the focus is more on growing into a new, healthier, lighter, energy and body shape rather than only on losing weight.
Parent's course in Homeopathy for Children
Having a good knowledge of the basic homeopathic remedies for common childhood complaints and how to use them, puts you in a very good position to avoid paracetamol and antibiotics which could be harmful for your child with repeated use.
Homeopathy stimulates your child's own healing power to resolve his illnesses. Every time he beats an illness on his own his whole system is strengthened leaving him more resistant to future attacks.
In the class you will learn;
How to use arnica and other remedies for injuries and first aid
How to manage a fever; homeopathic remedies and practical measures
Homeopathic remedies for earache and teething
Homeopathic remedies for coughs and colds
Homeopathic remedies for stomach upsets
You will hear something about the history and origins of homeopathy and you will gain a solid understanding of the holistic approach to health. Learning to look at the whole picture gives insight into why a child may have repeated bouts of illness and gives you the tools to break the cycle.
We will have case examples in the class and time allocated to discussing any ailments that your child might have that you need help with.
I have a lot of teaching experience, and creating a supportive learning environment is a priority for me. At the end of the course you will be equipped to handle your children's minor illnesses on your own at home possibly preventing something more serious.
The Parent's course takes place over three Saturday mornings from 10am to 12.30pm. The next course is starting in September 2017. Let me know by email if you are interested or have any questions; sandy@homeopathydublinsouth.ie
If you want to resolve your physical problems gently and effectively, or find ease and peace in emotional distress homeopathy is the whole body therapy that will set you on the road to recovery and well being.
As a resource for anyone faced with the difficult vaccination decision, I have collected articles on my facebook page which I feel are balanced and informative.
eMail:
_
hydnas@gmail.com
Phone: 086 8344520
Landline: 01 2841048
8 Lower Georges Street
Dun Laoghaire
Dublin
Prices:
Adult
Child
1st Appointment
125 euro
85 euro
Follow Ups
85

_

euro
60 euro
If you are looking for a medicine with no side effects you have come to the right place.